Custom Made Photo Op For Our Customer MidAmerican Energy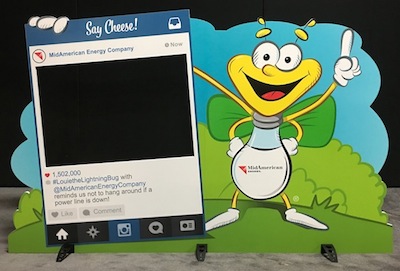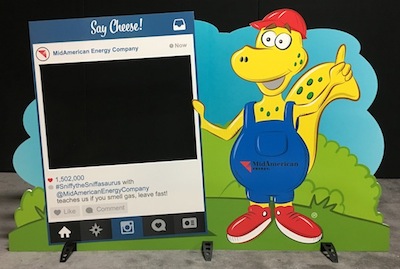 Children will strike a pose and post to Instagram and other social media with these custom made Louie the Lightning Bug® and Sniffy® cutouts. These will be a big hit at the Iowa State Fair and at MidAmerican Energyevents for many years to come. The "window" is a cutout space for kids to stand and take their best picture with these fun safety characters.



Inflatable Louie Costume
The inflatable Louie the Lightning Bug® costume is the best Louie costume we've ever offered. The costume gets its shape from a constantly-running fan powered by a battery waistpack. Instead of being constricted by hot, heavy foam, the wearer has room to move around inside the suit. The wearer's arms can be moved in and out of each of Louie's four arms to give the illusion that all Louie's arms move.

The inflatable Louie costume is cooler and lighter than the tradtional foam costumes which makes it easier on the wearer. Inside the costume, the temperature is only a few degrees higher than the outside ambient temperature. The costume's lighter weight also saves money whenever the costume is shipped.

Getting in and out of the costume is easy and takes just a few minutes. Start by putting on a light vest that contains the battery pack. Step into the legs and put your own shoes on, then strap those into Louie's shoes. Connect three buckles that attach the costume to the vest, then connect the battery cable to the fan cable and switch it on. The wearer then lifts the body over his/her head and zips it around the suit. Costume inflates in one to two minutes.

Costume includes a battery charger and two high-grade rechargeable batteries. Battery life is approximately 90 minutes and charge time is approximately 60 minutes. The costume requires one battery, so one can be charged while the other is worn in the suit.

The price is $9900 plus shipping. We highly recommend the purchase of an optional trunk with wheels at $550. The trunk protects your investment, and the wheels make for easier portability.


Power Town 3D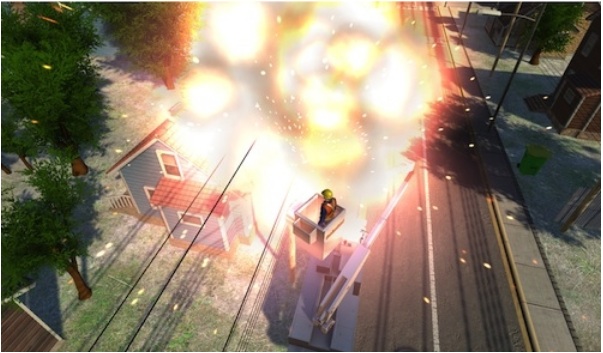 Moore Syndication provides a new computer training tool aimed at reducing electrical contact accidents. This product is perfect for electrical utilities, one-call centers, technical colleges or companies engaged in construction or communications. See a video of Power Town 3D in action.

Whether you are talking to construction companies, school groups or the general public, the new Powertown 3D computer program is the authoritative educational safety educational tool for you. And it's comprehensive enough for internal training, too. Detailed graphics make sense of general safety concerns, OSHA and state regulations and protective standards governing safety equipment and clothing.

The program depicts detailed animated electrical contact situations which can be played, paused and rotated for 360° viewing. Presenters control the commentary so that it's appropriate for every audience.

An agricultural contact scene is currently being developed, and will be updated free to all program licensees.

Power Town 3-D was developed by Georgia Power Company and has been credited with a drop in contacts. It has been used for multiple presentations to construction interests, first responders, governmental agencies, school groups and the general public.

The program gives a detailed view of a typical town, showing buildings, streets, sidewalks overhead and underground utilities and communication lines. These can be rotated and viewed from any angle.

It's easy for your utility to obtain its own copies of this program. Power Town 3-D is licensed on an annual basis. Licensees have the right to distribute multiple copies and brand with their logos, messages, etc. A training video and print documentation are provided with each unit purchased.

To order or receive more information, contact Pam Moore at Moore Syndication at (205) 871-8819.


New Classroom Presentation
Louie's Electrical Field Trip presentation makes it easy to teach students in grades 4-6 about electricity and electrical safety.

Louie's Electrical Field Trip is an interactive presentation that can be presented by your employees, or teachers can access and present on their whiteboards or computers. The presentation includes these topics:

What is electricity?
How do we use electricity?
Who makes it?
How can we stay safe?
How can we save electricity?

Louie's Electrical Field Trip is available by annual subscription. The first year price is $1,250.

A teacher or employee can present the program at a pace that works for the class and it includes interactive activities and Louie :30 video clips to help the class retain the information. A script is included in the presentation for either a teacher or your presenter.

Moore Syndication will customize the presentation with your company's logo and make other text changes to suit your company. We can also include photos of your employees or equipment to make the presentation even more personal.

There is a scheduling option that Moore Syndication can incorporate. This option allows a teacher to request a presenter from your company to come to the school at times that have been predetermined by you. The program will also keep up with the presentations made so you have metrics on the success of Louie's Electrical Field Trip in your service territory.

Here is link to the Louie's Electrical Field Trip demo.
To order or receive more information, contact Pam Moore at Moore Syndication at (205) 871-8819.

Louie's Lab Software Teaches Science and Safety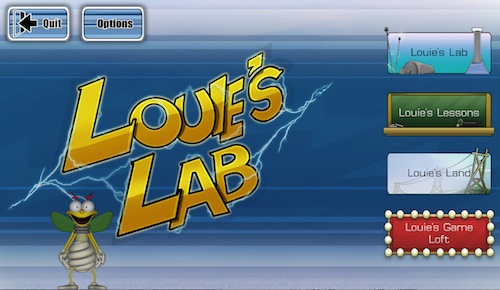 Featuring 130 different screens plus an interactive quiz, the NEW Louie's Lab is available by annual license for unlimited downloads. Mac and Windows versions are available. The licensing fee includes the design of a custom landing page to reside on customer's websites. Here is a screen-by-screen preview in a web movie format. (In the movie preview, we quickly navigate through the screens; on the real version of the software, user will click through at his/her own pace).

Louie's Lab is licensed for $1,500 annually. Current Electric Universe subscribers may add Louie's Lag to their Electric Universe site for a discounted rate of $600 per year. To receive the discount, please contact Pam Moore at 205-871-8819.

Louie's Lab can be understood and enjoyed by both older and younger elementary school students.

A flying Louie, music, sound effects, and animations engage students' imaginations and reinforce the lessons. Sponsoring utilities can offer this fun product to teachers as an educational resource and directly to children of ratepayers through the utility's website.

Louie's Lab is subdivided into four chapters:

The Lab describes basic science concepts related to electricity.

Louie's Lessons presents basic electrical safety rules.

Louie's Land describes generation of electricity and traces the path that electricity takes to reach the end user.

The final section, Louie's Game Loft, is a 10-question quiz that tests a student's comprehension of the lessons. The quiz pulls questions randomly from a database, so the quiz is different each time it's taken.


Provide Shirts for Special Events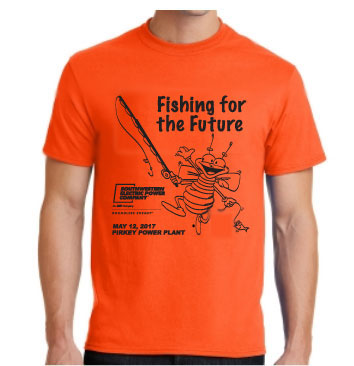 Commemorate your next big event with custom t shirts! Shirts are great giveaways because they promote your brand and event for years.
We've negotiated special pricing with a shirt manufacturer to offer you low prices on a variety of styles. Shown above is a soft 50/50 cotton poly blend. This lighter weight shirt has been the latest trend in t shirts. We can provide youth and adult sizes up to 6XL with a variety of colors.
Louie the Lightning Bug® program licensees may print Louie with their own custom message. We can also print the Sniffy gas safety character, or choose your own special custom design. Need with with artwork? We'll be happy to provide a quote for services to create your design.
Numerous shirt styles are available. We have the right shirt for almost any need. Just give us a general idea of the type of shirt you seek and we'll provide options. Here are just a few examples:
| | |
| --- | --- |
| | |
| | |
| 5.5 oz. 100% Ringspun Cotton | 5.4 oz Long Sleeve Cotton |
| | |
| | |
| | |
| 5.5 oz. 50/50 cotton poly Pocket T | 5.4 oz. 100% Cotton Tiger Stripe T |
Pricing depends on quanity, shirt style and number of imprint colors. If you'd like a quote for your next project or event, please contact us at 205-871-8819.

Promote Your Company and Message with Pens
We've added more than 20 new styles of writing pens to our lineup. We have assorted styles from click pens to twist action pens to stylus pens, all in a wide assorment of colors.
Shown below are a few favorites. See them all here.